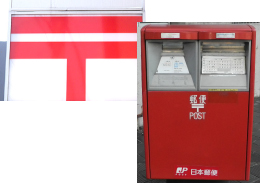 In addition to delivering the mail, Japanese post offices also offer savings accounts and insurance. In general, post office hours are 9 a.m. to 5 p.m. (until 4 p.m. for savings accounts and insurance-related business). Post offices are generally closed on Saturdays, Sundays and national holidays, but some major post offices have extended hours. The "〒" mark is the post office logo, and mailboxes with this logo can be found along sidewalks.
When you write an address on a post card or letter, in addition to the name and address, you need to include the postal code designated for that location.
Undeliverable packages
If you are not at home when a package or piece of registered mail that requires proof of receipt is delivered, a notice will be left instead. You can bring the notice, a form of ID such as your resident card and your seal (a signature will also suffice) to the post office listed on the notice to pick up the package, or arrange another time for delivery.
Note: Japan Post has an English-language service for questions regarding the mail.
Tel: 0570-046-111 (Monday through Friday, 8 a.m. to 10 p.m.; Saturdays, Sundays and holidays, 9 a.m. to 10 p.m.)
▲To the Top of the Page