"KARUTA" event on 30th July, 2016
MIA Youth Team held "KARUTA" event on July 30th.
Here is a comment from MIA Youth Team member who organized this exciting program.
"Going Back in Time with the Magical Cards Karuta"
 The feeling is strange and the environment looks different, it seems we were transported back in time when Tokyo was still Edo and Japan's doors were still closed. But we did not use any special machine to bring us back to the old Japan. We managed to touch and play only these magical cards – Karuta.
 Karuta, as we heard of it, was a loan word from Portugal – caruta which means cards. Karuta is a card game but unlike other card games, it does not use Spades and Aces or Magical Monsters. The way we learned it is that there is one set for picture cards and the other set is Japanese proverbs corresponding to the picture card. The game was pretty simple and fun. We just need to listen to the proverb's first syllable sound, look for the picture card laid on the tatami mat, slap it, say 'hai' and get the card. Of course, it is sometimes tricky as you need to listen very carefully to the proverb, look the picture cards slowly and find the hiragana corresponding to the first syllable. Before you know it, someone already said 'hai' and gain the card! Winning the game is pretty simple as well. The person who holds the most number of cards wins the game.
 There were three sets of cards which we managed to play – (1) easy level which used simple hiragana, (2) medium level – which used katakana, and (3) difficult level – in this level we used the Edo Iroha Karuta Cards. The difficult level was a bit tricky as some of the hiragana's are no longer being used today!
 The playing atmosphere was amplified by the venue. We went to Akasaka Civic Center and entered a Japanese style room. The room's floor is not modern in style rather it has the traditional tatami mat. Tako's (kite) were hung in the room. The organizers wore the traditional summer outfit in Japan – Yukata.
 Playing the game also let us socialize with other nationalities. At the end of the game, we managed to know other countries' cards game and proverbs. Proverbs were spoken to the participant's mother language, then, translated to English and finally explained the meaning of the proverbs.
 It was a wonderful experience and with a historical feel of knowing Japan's culture and playing the game which was played century ago. At the same, we learned different culture's card game as well!
The 22nd World Youth Discussion held on 20th of February 2016
MIA Student member, the leader of this team has written the feedback of this event.
"How about asking this question first? 'Which is happier? Being a wild animal or an animal in a zoo?'"
"That sounds good, it makes us easier to discuss about our career after that."
"Is that too difficult to ask which political party is better, Democracy or Socialism?"
This year's discussion theme was 'What is your happiness?' In order to start with a simple discussion to lead to the main theme, we have decided to ask each other, 'A or B which is happier?' At this stage, we were already excited and passionately discussing.
On 20th of February, 23 youth members were gathered in front of the 'Statue of the Wings' at Ueno Station to participate The 22nd World Youth Discussion. Although we had a little awkwardness with the participants who met the first time, but soon after, we headed to Central Youth Center of Ibaraki Prefecture.
Our plan was to do the activities first for ice-breaking. This was a great idea, because the first thing we did was the indoor-bingo which requires a good team work to find the hidden cards inside the venue, and without trying hard, we were felt so close to each other, and it did not seem like we just met that morning.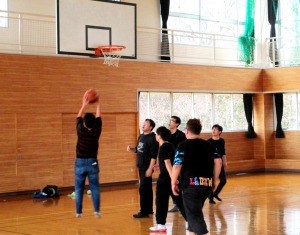 After the bingo, we went to Gym to play badminton, ping-pong and other sports for exercise, a while before our main event, 'World Youth Discussion'.
We have discussed about 'career' for life, and this is related to our happiness. What they wish to be are a photographer, restaurant manager, an entrepreneur, a journalist or a chef… Most of us had our clear vison of what we want to do, so our discussion was also specific.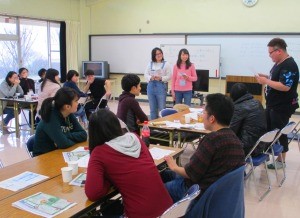 What I found it was interesting, is that the people who think 'Animals at the zoo is happier', they wish to open their own business. On the other hand, The people who think 'Wild animals are happier,' they don't want to take a risk, and wish to work for a big company. This opinion seems like a paradox, but I assume that their wish is to have a freedom like a wild animal, but in reality, the priority is not to take a risk.
Choosing either way, we all had the same idea that 'We wish to see everyone's smile, and wants to contribute to the society, and eventually it will make ourselves happy'.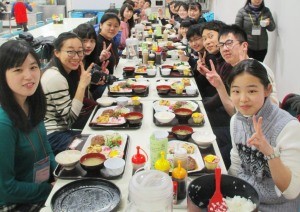 After the night of enthusiastic discussion, we had to leave on the next morning. It felt very short in this one night event, but I feel very lucky to have such opportunity to join this program with many people without age or race boundaries. I wish to keep in touch with other participants, and would like to use this experience that I gained in this event.
Tokyo Bay Grand Fireworks Viewing Event on 8th August, 2015
MIA Youth Team has organized fireworks viewing event at Tokyo Bay.
We had participants from eight countries and we enjoyed fireworks together.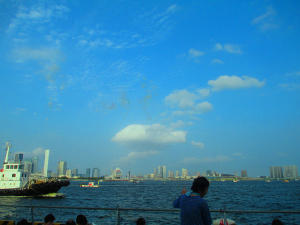 We had great weather and beautiful ocean view at Shibaura Second Venue.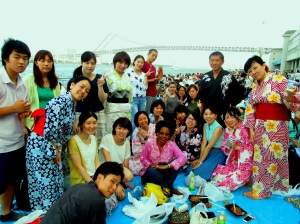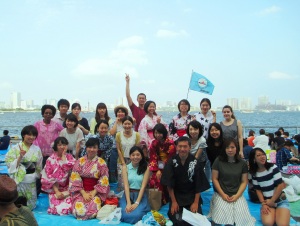 Some of the International participants had their yukata on.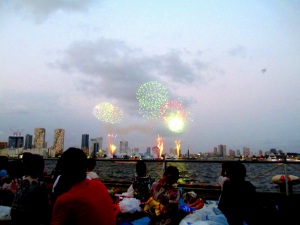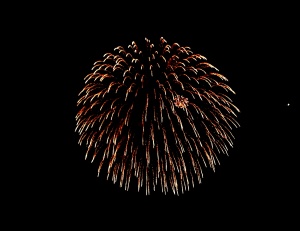 Not just a big sound we felt from the fireworks, but it was very close to the fireworks, so the cinders were falling to our site.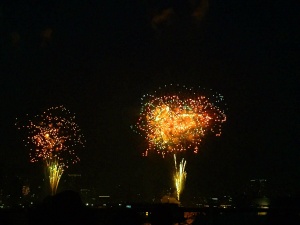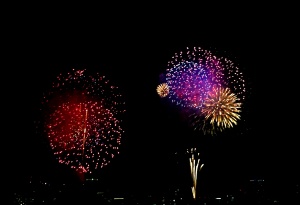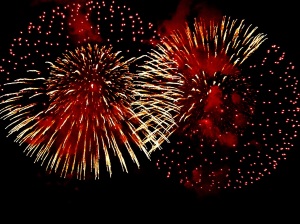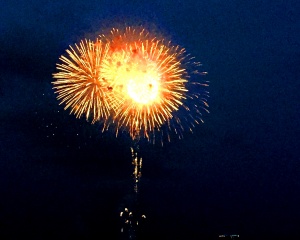 Many fireworks had interesting Japanese patterns.