Kamakura Hiking on 30th May, 2015
We went hiking "Historical Site KAMAKURA ~Walking around one of the oldest temples in Kamakura and bamboo forest~".
"After the Kamakura Hiking"
Hiking leader (MIA member) Hiroshi Yamamoto
"Heading to Kamakura, we were there in the end of May. Since ancient period, citrus tachibana flowers and lesser cuckoos are known as seasonal phrases for May in Japanese poetry.
In the beginning of May, we went to look the hiking sites beforehand, and it was certain that this site was perfect for this season. On the hiking day, after meeting in Kamakura station, we got gathered in Sugimoto-dera Temple. We did not have time to see all of it, but we were told by the guide that it is the oldest temple in Kamakura for Tendai denomination. After Sugimoto-dera Temple, we went to Houkokuji which is a Zen temple belongs to Kenchōji Temple of Rinzai Sect. Participants from foreign countries were impressed by the beauty of the bamboo forest and Japanese garden.
Soon after we started walking along Junrei-kodo (pilgrim's trail), where Minamoto no Yoritomo and Masako Houjou (historical shogun and his wife) may have walked (or not?). The trail leads us to the top of Mt. Kinubari. What we saw from the top of the mountain was the amazing view of Sagami Bay and mountains of Kamakura and Hakone. Mt. Fuji was far from where we were, but was showing its head from the misty clouds. At the top of the hill (High-land Park), we had lunch as we talk about our culture with others from overseas. It was a great opportunity for us to understand different cultures in various levels. Not only for foreigners, but for Japanese, we could also rediscover our culture, and improve the values of what we have. On the way climbing down the mountain, we had a chance to see historical sites (including Okirigishi Wall and Nagoe pass cut through).
All together we had 43 participants, including Japanese and people from about 10 different countries. We would not have had such joy of understanding different cultures without participation. For all of us, surely it was a memorable hiking."
Houkokuji (Bamboo Temple)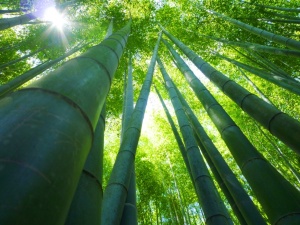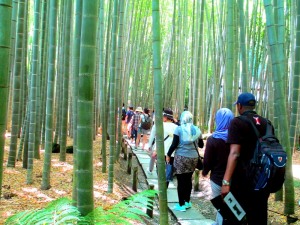 At Houkokuji also known as 'Bamboo Temple', we have walked around in the beautiful bamboo forest.
Mt. Kinubari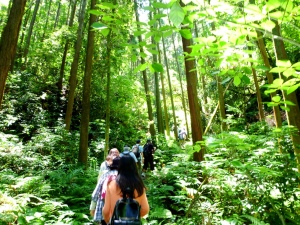 It was hot and sunny, but very refreshing hiking in the forest up the mountain.
Mt. Fuji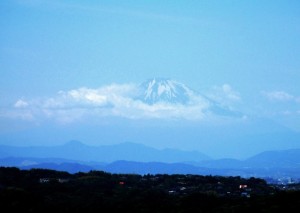 Up the mountain, we had a beautiful sunny lookout with Mt. Fuji.
Okirigishi Wall (Long Escarpment)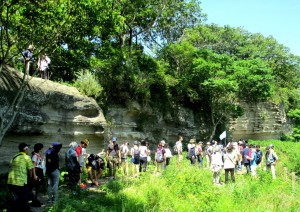 This is a historical site of stone quarry used for architecture in Kamakura period.