MIA Communications
Hiking
MIA Communications | Hiking
Tsukuba Science Tour on 27th May 2017
We held Tsukuba Science Tour.
Here is a comment from the leader of this event.
I wish to express my deep gratitude to everyone who took part in the Tsukuba Science Tour.
Seeing the latest scientific technologies in Japan up close and learning about their history and research result allowed us to fully achieve our ultimate goal of fostering international communication.
Visiting each research facility by bus and having conversation to various nationalities left a mark on my mind.
I am also grateful to everyone in fostering interesting interactions with people from various generation.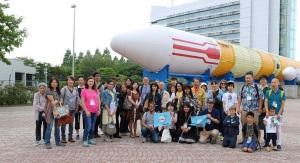 Walking Tour – Maneki Neko on 25th March, 2017
We went to Lucky Cat-Maneki Neko (Gotokuji Temple) Historical Tour.
Here is a comment from one of the participants from Sweden.
Even though it was early spring, we were in luck with the weather.
Finding the meeting area was very easy, due to the helpful staff who were stationed at different areas to guide the participants.
When everyone was gathered, the staff introduced themselves and gave us the schedule of the day orally in both Japanese and English.
The walk to the Temple was very pleasant, both the pace and the view.
The staff were excellent in teaching about the different locations we visited, and to create subjects to talk about among the participants, which created a joyful atmosphere.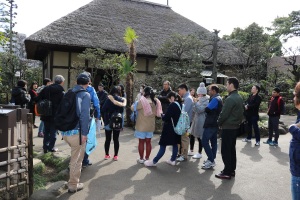 Okutama Hatonosu Valley Hiking on 29th October, 2016
We went hiking on 29th of October, 2016.
Here is a comment from one of the participants.
A good way to kick off the cool autumn and its dramatic changing colors is to be with nature, feel the cool breeze and be awed with the orange and red leaves colors.
Okutama Hiking had let us experience not just the beauty of nature but also having us interact with different people. Not known to many, Okutama is just half and hour away from Tokyo. It is a quick escape from the busy metropolis and good way to recharge our body with nature.
Last October 29, roughly 30 people walked, trekked and hiked the stony, steep yet beautiful scenery of Okutama. There were several pauses, breaks, ups, downs, slippery path but while you are walking you will feel different as you see the green leaves turning brown, the fading scent of Summer and the welcoming cool breeze of Autumn. Hikers also managed to see the crystal water which was made more beautiful because of the stones in the water.
A cat will wait you at the end of a Hanging Bridge! You have to take your time in this bridge as only 5 people are allowed to pass at a time. And if you are hungry, grab your onigiri, drink your ocha, sit down and relax. Feel the comfort of the Earth.
After the steep and long walk, you will come across a dam. With its water and the backdrop of trees, it is a beauty to behold.
The 7 hour hike in Okutama will not just rejuvenate you. It will also brush up your Japanese!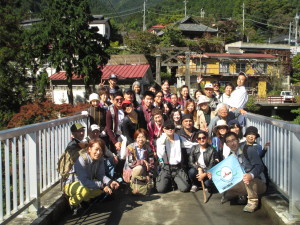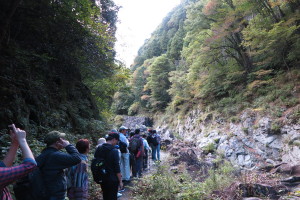 Kamakura Daibutsu Hiking
MIA went hiking on May 28, 2016.
Here is a comment from Chair, Executive Committee (MIA member) who organized this hiking program.
"Kamakura Daibutsu Hiking"
The day before the hiking day was a rainy day.
Fortunately, it was a nice and sunny day on the 28th of May.
We had a total of 39 participants including foreigners from USA, Italy, Philippines, Taiwan, and Singapore.
The starting point of the hiking course was Jochiji-Temple. We had a brief explanation of Shinto-ism at Kuzuhara Shrine. Following that, we had lunch and an intercultural exchange talk time at Genjiyama Park.
During the tour, we visited Zeniaraibenten Shrine which is located in a cave. We washed our own money for good luck and prosperity.
Subsequently, we resumed our hiking course through the Sasuke Shrine. There were some narrow passages that became very slippery due to the rain from the previous day.
It took approximately one hour to arrive at the Kamakura Daibutsu from the lunch place.
After the tour of Daibutsu, some hikers proceeded to see the Hase Temple.
Although there were not many foreigners on that day, nevertheless everyone had a great time chatting with each other.
We welcome everyone to join our next hiking program.
Walking Tour of the 47 Ronin on March 12, 2016
MIA held a walking tour on March 12, 2016.
Here is a comment from Chair, Executive Committee (MIA member) who organized this exciting program.
"Walking Tour of the 47 Ronin"
We had a walking tour in 2016 where we re-traced the historical path taken on foot by the 47 Ako Ronins during the fateful day of March 14th. It was the first time we guide from the Minato-ku voluntary tour guide Society to lead us. Unfortunately, the weather was quite cold and cloudy, all day long. Nonetheless, we had 38 participants including 17 foreigners from all over the world that day. A brief explanation of this tour was given at Sakura Park which was near of the starting point of Shimbashi SL Square.
The tale of the 47 loyal Ronin tells the story of a group of samurai who were left leaderless (Ronin) after their Daimyo Asano was compelled to commit ritual suicide (Seppuku) for assaulting a court official named Kira Yoshinaka. On December 14, 1702, the remaining group of 47 Ronin under their leader, Kuranosuke Oishi finally succeeded in avenging Daimyo Asano's honor and death by killing Kira.
During the tour, we visited the place where Asano committed suicide (Seppuku). Asano drew his sword on himself in the Edo Castle at a place which is now known as "The Pine Gallery Incident", the day of March 14th almost 315 years ago. We then visited the site of the former residence of Daimyo Mouri where the 47 Ronin were hosted. Following that, we toured the residence of Daimyo Matsudaira, Mizuno and Hosokawa. The residence of Mouri is located at Roppongi Hills and is now a part of the Italian embassy. But, there are neither memorials nor indications of the historical residence. At the last segment of this tour, we visited the temple (Sengakuji) where the graves of the 47 Ronins are located at. Some foreigners who joined the tour told me that they watched the Hollywood movie that was based on this historical tale. I was also glad to have met foreigners who had also participated on a previous tour. We finally managed to complete this 9 kilo meters course on that day in spite of such cold weather.