MIA Communications | Event
Kamakura Daibutsu Hiking
MIA went hiking on May 28, 2016.
Here is a comment from Chair, Executive Committee (MIA member) who organized this hiking program.
"Kamakura Daibutsu Hiking"
The day before the hiking day was a rainy day.
Fortunately, it was a nice and sunny day on the 28th of May.
We had a total of 39 participants including foreigners from USA, Italy, Philippines, Taiwan, and Singapore.
The starting point of the hiking course was Jochiji-Temple. We had a brief explanation of Shinto-ism at Kuzuhara Shrine. Following that, we had lunch and an intercultural exchange talk time at Genjiyama Park.
During the tour, we visited Zeniaraibenten Shrine which is located in a cave. We washed our own money for good luck and prosperity.
Subsequently, we resumed our hiking course through the Sasuke Shrine. There were some narrow passages that became very slippery due to the rain from the previous day.
It took approximately one hour to arrive at the Kamakura Daibutsu from the lunch place.
After the tour of Daibutsu, some hikers proceeded to see the Hase Temple.
Although there were not many foreigners on that day, nevertheless everyone had a great time chatting with each other.
We welcome everyone to join our next hiking program.
Walking Tour of the 47 Ronin on March 12, 2016
MIA held a walking tour on March 12, 2016.
Here is a comment from Chair, Executive Committee (MIA member) who organized this exciting program.
"Walking Tour of the 47 Ronin"
We had a walking tour in 2016 where we re-traced the historical path taken on foot by the 47 Ako Ronins during the fateful day of March 14th. It was the first time we guide from the Minato-ku voluntary tour guide Society to lead us. Unfortunately, the weather was quite cold and cloudy, all day long. Nonetheless, we had 38 participants including 17 foreigners from all over the world that day. A brief explanation of this tour was given at Sakura Park which was near of the starting point of Shimbashi SL Square.
The tale of the 47 loyal Ronin tells the story of a group of samurai who were left leaderless (Ronin) after their Daimyo Asano was compelled to commit ritual suicide (Seppuku) for assaulting a court official named Kira Yoshinaka. On December 14, 1702, the remaining group of 47 Ronin under their leader, Kuranosuke Oishi finally succeeded in avenging Daimyo Asano's honor and death by killing Kira.
During the tour, we visited the place where Asano committed suicide (Seppuku). Asano drew his sword on himself in the Edo Castle at a place which is now known as "The Pine Gallery Incident", the day of March 14th almost 315 years ago. We then visited the site of the former residence of Daimyo Mouri where the 47 Ronin were hosted. Following that, we toured the residence of Daimyo Matsudaira, Mizuno and Hosokawa. The residence of Mouri is located at Roppongi Hills and is now a part of the Italian embassy. But, there are neither memorials nor indications of the historical residence. At the last segment of this tour, we visited the temple (Sengakuji) where the graves of the 47 Ronins are located at. Some foreigners who joined the tour told me that they watched the Hollywood movie that was based on this historical tale. I was also glad to have met foreigners who had also participated on a previous tour. We finally managed to complete this 9 kilo meters course on that day in spite of such cold weather.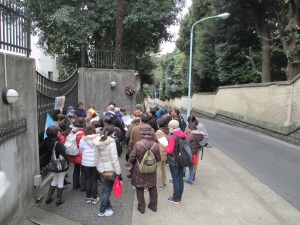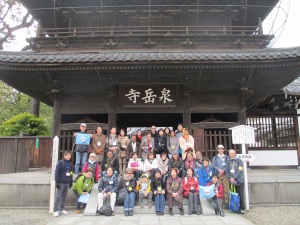 The 22nd World Youth Discussion held on 20th of February 2016
MIA Student member, the leader of this team has written the feedback of this event.
"How about asking this question first? 'Which is happier? Being a wild animal or an animal in a zoo?'"
"That sounds good, it makes us easier to discuss about our career after that."
"Is that too difficult to ask which political party is better, Democracy or Socialism?"
This year's discussion theme was 'What is your happiness?' In order to start with a simple discussion to lead to the main theme, we have decided to ask each other, 'A or B which is happier?' At this stage, we were already excited and passionately discussing.
On 20th of February, 23 youth members were gathered in front of the 'Statue of the Wings' at Ueno Station to participate The 22nd World Youth Discussion. Although we had a little awkwardness with the participants who met the first time, but soon after, we headed to Central Youth Center of Ibaraki Prefecture.
Our plan was to do the activities first for ice-breaking. This was a great idea, because the first thing we did was the indoor-bingo which requires a good team work to find the hidden cards inside the venue, and without trying hard, we were felt so close to each other, and it did not seem like we just met that morning.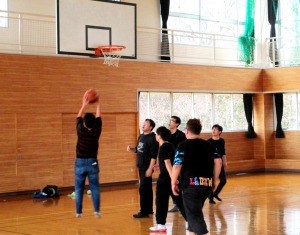 After the bingo, we went to Gym to play badminton, ping-pong and other sports for exercise, a while before our main event, 'World Youth Discussion'.
We have discussed about 'career' for life, and this is related to our happiness. What they wish to be are a photographer, restaurant manager, an entrepreneur, a journalist or a chef… Most of us had our clear vison of what we want to do, so our discussion was also specific.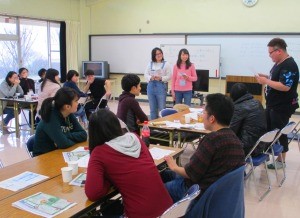 What I found it was interesting, is that the people who think 'Animals at the zoo is happier', they wish to open their own business. On the other hand, The people who think 'Wild animals are happier,' they don't want to take a risk, and wish to work for a big company. This opinion seems like a paradox, but I assume that their wish is to have a freedom like a wild animal, but in reality, the priority is not to take a risk.
Choosing either way, we all had the same idea that 'We wish to see everyone's smile, and wants to contribute to the society, and eventually it will make ourselves happy'.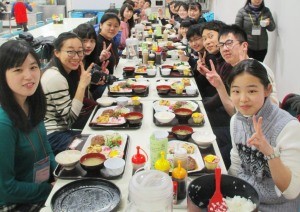 After the night of enthusiastic discussion, we had to leave on the next morning. It felt very short in this one night event, but I feel very lucky to have such opportunity to join this program with many people without age or race boundaries. I wish to keep in touch with other participants, and would like to use this experience that I gained in this event.
Tokyo Bay Grand Fireworks Viewing Event on 8th August, 2015
MIA Youth Team has organized fireworks viewing event at Tokyo Bay.
We had participants from eight countries and we enjoyed fireworks together.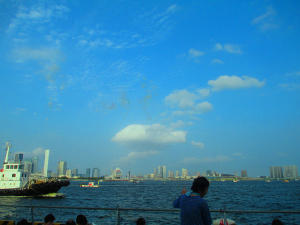 We had great weather and beautiful ocean view at Shibaura Second Venue.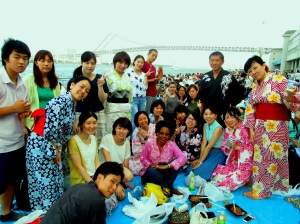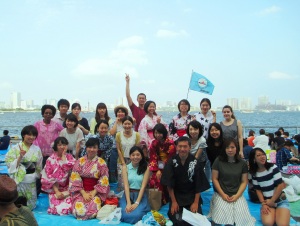 Some of the International participants had their yukata on.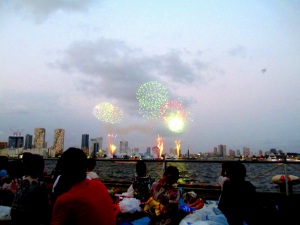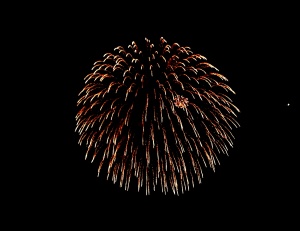 Not just a big sound we felt from the fireworks, but it was very close to the fireworks, so the cinders were falling to our site.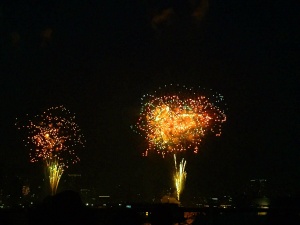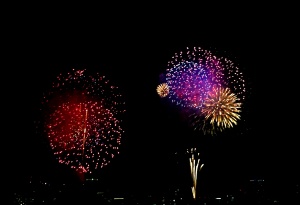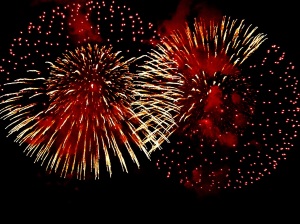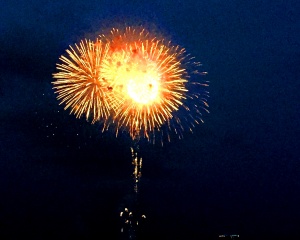 Many fireworks had interesting Japanese patterns.
Kamakura Hiking on 30th May, 2015
We went hiking "Historical Site KAMAKURA ~Walking around one of the oldest temples in Kamakura and bamboo forest~".
"After the Kamakura Hiking"
Hiking leader (MIA member) Hiroshi Yamamoto
"Heading to Kamakura, we were there in the end of May. Since ancient period, citrus tachibana flowers and lesser cuckoos are known as seasonal phrases for May in Japanese poetry.
In the beginning of May, we went to look the hiking sites beforehand, and it was certain that this site was perfect for this season. On the hiking day, after meeting in Kamakura station, we got gathered in Sugimoto-dera Temple. We did not have time to see all of it, but we were told by the guide that it is the oldest temple in Kamakura for Tendai denomination. After Sugimoto-dera Temple, we went to Houkokuji which is a Zen temple belongs to Kenchōji Temple of Rinzai Sect. Participants from foreign countries were impressed by the beauty of the bamboo forest and Japanese garden.
Soon after we started walking along Junrei-kodo (pilgrim's trail), where Minamoto no Yoritomo and Masako Houjou (historical shogun and his wife) may have walked (or not?). The trail leads us to the top of Mt. Kinubari. What we saw from the top of the mountain was the amazing view of Sagami Bay and mountains of Kamakura and Hakone. Mt. Fuji was far from where we were, but was showing its head from the misty clouds. At the top of the hill (High-land Park), we had lunch as we talk about our culture with others from overseas. It was a great opportunity for us to understand different cultures in various levels. Not only for foreigners, but for Japanese, we could also rediscover our culture, and improve the values of what we have. On the way climbing down the mountain, we had a chance to see historical sites (including Okirigishi Wall and Nagoe pass cut through).
All together we had 43 participants, including Japanese and people from about 10 different countries. We would not have had such joy of understanding different cultures without participation. For all of us, surely it was a memorable hiking."
Houkokuji (Bamboo Temple)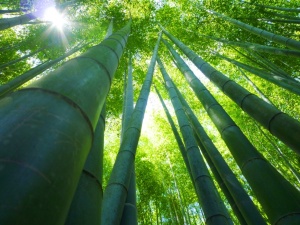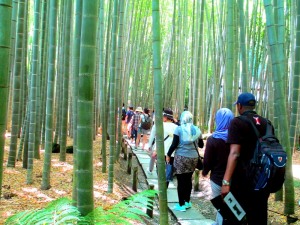 At Houkokuji also known as 'Bamboo Temple', we have walked around in the beautiful bamboo forest.
Mt. Kinubari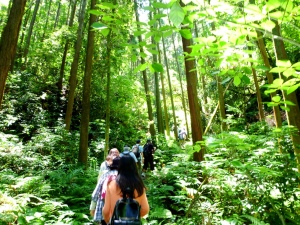 It was hot and sunny, but very refreshing hiking in the forest up the mountain.
Mt. Fuji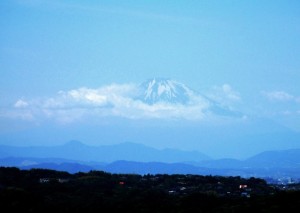 Up the mountain, we had a beautiful sunny lookout with Mt. Fuji.
Okirigishi Wall (Long Escarpment)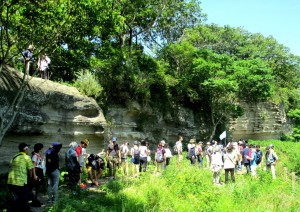 This is a historical site of stone quarry used for architecture in Kamakura period.