"Germany Day" on 2nd June, 2018
On 2nd June, 2018, Minato International Association (MIA) welcomed the Embassy of Germany and Goethe-Institut for bi-annual country introduction events.
"Germany Day", a wide range of participants enjoyed the culture, history and  German rap.
Personal report by R.O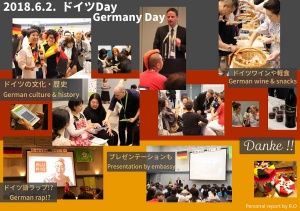 "Mozambique Day" on 11th April, 2015
MIA held "A Day to Present a Country" on April 11th.
This time it was a Mozambique day.
Here is a comment from Chair, Executive Committee (MIA member) who organized this exciting program.
"Honestly speaking, I had a little knowledge about this country although I was playing an important role in this event.  So I made up my mind to go to Mozambique Embassy in Tokyo to learn all about this country.
Ever time I go to the Embassy; I was welcomed so friendly and openly by the staff. I could hardly wait for the Mozambique Day because of this happy experience.
All the things I saw and I heard on Mozambique Day were exactly what I have expected.
The Ambassador His Excellency Mr. Malate dressed up in casual manner and behaved in frank among the guests.
In his wonderful speech, he kindly introduced Mozambique to us. I was impressed to know that in Mozambique, there were attractive nature, life style and a diversity of local structures. He also let us knows that Mozambique was the most successfully arbitrated by UN after the independence.
Ambassador's speech was followed by Mozambique traditional dance. All the participants like Ambassador His Excellency, Embassy's staff and guests enjoyed such a lively dance.
In the party session, people excited to find delicious foods. It is our great pleasure to introduce a special course menu brought by the Ambassadress.
Nice taste wine was served by Mozambique Embassy which swelled the party much more.
No one looked like stop pleasant conversation and go home.
My words that convey the closing was almost heard like a happy screaming.
The next event is "El Salvador Day" which I know well the country. I will do my best along with the Embassy and MIA members, so please stay tuned!
We look forward to your participation!!"
Participants enjoyed Mozambique craft bazaar and tasting of their coutry's cuisine.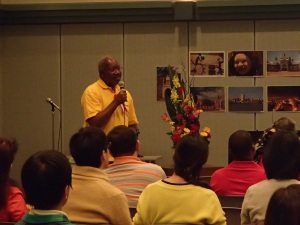 H.E. Mr. Belmiro José MALATE, Ambassador of the Republic of Mozambique in Japan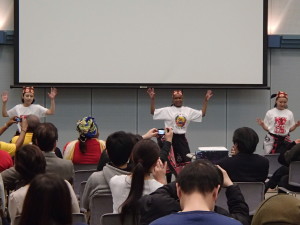 Marrabenta (Mozambican dance music)